49 Plays
Lead me cz I can't do this alone! :)
Expectation:

Reality:

Lol? :D haha! :) 
(Source: bivisaurus)
Sometimes I just can't believe that another year has passed…:) trust me..when I need to write the dates..example in my school exercise books…it would b like…__/__/2010…:O…then I end up realising…its ady 2011!! :O I gotta admit that I've been away frm Tumblr for ages!!..sorry bout tat. :O…and guess wat..its SPM THIS YEAR!! :O…
Well..I just hope by God's grace..I'll score with flying colours…red, yellow, green , blue pun ada….you name it..haha…:D 
The downside this year is that..she's heading for Ausy..:( 
Well..nevermind..I'll wait till she's home! :D….even if it takes ages. :D..
Hmm…I can say that this year is going to Exams Exams and MORE EXAMS! :O 300 more days..? 11 subjects? Can I succeed? :O Chow for now! :D
Ebony and ivory…two best friends…always together…either on a piano, organ or even on a keyboard. Living together in perfect harmony. Playing them produces a sweet melody. They can play up your emotions and mood. It can bring you up or down. It brings calmness and peacefulness into the atmosphere. A soothing piano piece can just make you wander off into dreamland. Or just makes you stay awake in some cases. Aren't they beautiful? Chords play in harmonic rhythm. Every note that is on the music sheet just comes flying into your ears. Some songs can even make you shed tears. Whatever it is, the perfect combination of ebony and ivory just makes the music world more complete. What about us humans? Can we be like them, in harmony and peace, side by side, though different in colour, yet making the world a better place? Think again.
-Josh W
10 Plays
WORLD CUP 2010 OFFICIAL SONG
Jabulani - Official Ball      Zakumi                  World Cup 2010 Logo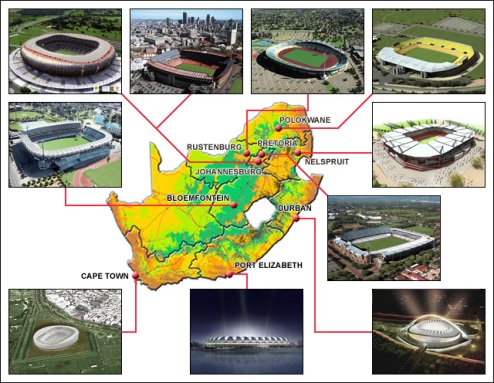 Stadiums that are going to be used.
ITS FINALLY IN SOUTH AFRICA…after 4 years since the previous World Cup in Germany. Football, the most played and watched sport on the face of the earth comes to South Africa. All eyes are onto them. Go!! SPAIN AND FRANCE!! XD
Today, things kick off with the host, South Africa playing against Mexico!
Yesterday, watched a part of the OPENING CONCERT WORLD CUP, ONLINE! LIVE!
Technology, just brought people closer together. I was amazed by the good sound and video quality…As I said it was live….Does not go buffering all the time.
The best part is you get to switch different camera views of the concert. They sure had alot of fun yesterday. Here are some of the pictures:
I'm so blur about this tumblr thingy…

Questions :

1) How to change the background?? i want like ayutomoe's one…her's nice

2) Why my dashboard got a lot of unrelated-to-me-stuff?

3) How to add CBOX and FB badge?

4) How to add formspring???

Somebody, SOS here….