Jabulani - Official Ball      Zakumi                  World Cup 2010 Logo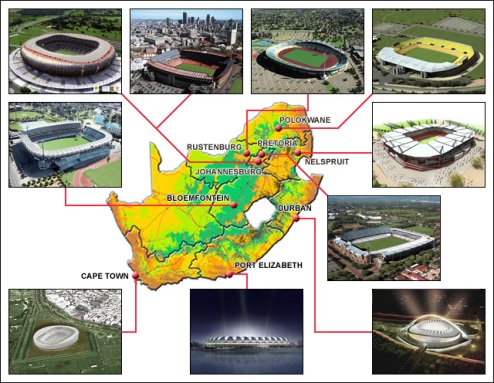 Stadiums that are going to be used.
ITS FINALLY IN SOUTH AFRICA…after 4 years since the previous World Cup in Germany. Football, the most played and watched sport on the face of the earth comes to South Africa. All eyes are onto them. Go!! SPAIN AND FRANCE!! XD
Today, things kick off with the host, South Africa playing against Mexico!
Yesterday, watched a part of the OPENING CONCERT WORLD CUP, ONLINE! LIVE!
Technology, just brought people closer together. I was amazed by the good sound and video quality…As I said it was live….Does not go buffering all the time.
The best part is you get to switch different camera views of the concert. They sure had alot of fun yesterday. Here are some of the pictures: